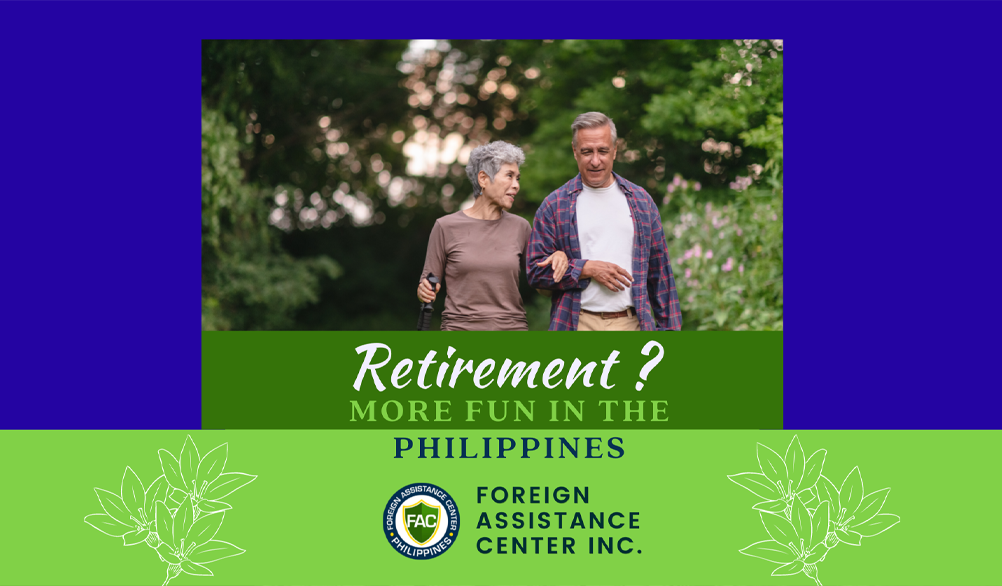 The Philippines is an attractive Retirement option for Expats because in the Philippines you will find beautiful Landscapes and Hospitable. The friendly Filipinos who speaking a good English that is in Asia occurring or done only once. Also the fact, that Filipino's to go out of one's way to be helpful. And don't believe story's regarding bad Infrastructure like no Supermarkets, no Cable and Internet Subscriptions, no Health Care and whathaveyou, we calling as well "Fake News". A Holiday Travel will convince you ! The F.A.C. Team will assist you in all necessary Visa affairs notwithstanding that, regardless of whether already pensioner or retired person because more and more younger independent Retirees enjoy the Lifestyle with a lot of manifold Opportunities of socially activities in the Philippines this present day.
As an accredited Marketer of Philippine Retirement Authority (PRA) the FAC Team would be glad if we can process your Retirement Visa. The Principal Retiree must be at least 50 years old to enjoy SRRV privileges. NOTE - Principal can also included Spouse & unmarried Children under 21 years old.

SRRV SMILE – for principal Retirees 50 year old and above SRR Visa deposit of US$20,000.00 in any of the PRA Accredited Banks.

SRRV CLASSIC – for Applicants with Pension (10.000 USD Deposit) or without Pension (20.000 USD Deposit) - Your Deposit can be invest as the purchase of Condominium or house & Lot but the value of the Property or long Lease contract must at least be 50.000 USD.

SRRV COURTESY – for former Filipinos (50 years old & above), and Foreign Nationals (50 years old & above) who have served in the Philippines as Diplomats, Ambassadors, Officers/Staff of International Organizations.

We advise to all our Customer to arrange follow documents abroad before you arrival in the Philippines:
- original Police Clearance with Apostille from Philippine Embassy abroad 
- Marriage Certificate or / and Spouse Birth Certificate and dependent-child with Apostille from Philippine Embassy abroad

NOTE - All Documents issued outside of the Philippines must be translated in English and authenticated (Apostille) by the Philippine Embassy/Consular of the Applicant Residence !
Inquiry for Assistance or process SRRV - Diese E-Mail-Adresse ist vor Spambots geschützt! Zur Anzeige muss JavaScript eingeschaltet sein!
.