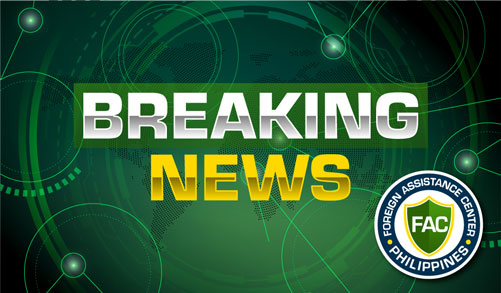 BUREAU OF IMMIGRATION - PRESS RELEASE
Commissioner Morente orders mandatory COVID tests for all Immigration employees. The Bureau of Immigration (BI) has ordered all its more than 3,000 officials and employees nationwide to undergo mandatory rapid test for COVID-19. "We have decided to make these tests compulsory for all our personnel to further safeguard the health of our employees and the people who transact business in our offices due to the increasing number of COVID-19 cases in the country," BI Commissioner Jaime Morente said in a statement. He added that BI employees who refuse to take the test will not be allowed to work. Morente likewise instructed BI employees assigned in the different Immigration Field Offices and Subports situated outside Metro Manila to coordinate with the Local Government Units (LGUs) in their respective areas for the conduct and availment of free COVID tests for frontliners. The BI medical section has previously conducted several mass rapid tests at the Bureau's Main Office, Ninoy Aquino International Airport, Clark Airport and its Detention Facility in Taguig City but these were all voluntary.
BI Chief further said that as an added precautionary measure, he also required all Accredited Liaison Officers and Representatives of Travel Agencies and Law Offices transacting at the BI to undergo the said tests or they will not be allowed entry into the bureau's premises.
It was learned that the mandatory tests for BI employees started Wednesday at their main building in Intramuros and the activity was done with the help of the Manila city government which dispatched a team of frontliners from the city health office to conduct the tests. Another round of tests for BI-NAIA personnel and those of the bureau's satellite and extension offices in the capital will be conducted in the next few days, BI Acting Spokesman Melvin Mabulac said. He also disclosed that only about a third of the BI's 3,157 employees voluntarily took part in the previous rapid tests conducted by the bureau's medical team. It will be recalled that the BI announced the temporary closure and disinfection of its main building last Monday after one of its employees tested positive for COVID-19.
The Employee of the FAC Philippines Immigration Consultancy make already the Rapid Test for COVID-19.
On Monday (15. JUN 020) we process all our pending Application as is usual.
.