Philippine getting 10 million Tourists each year by 2016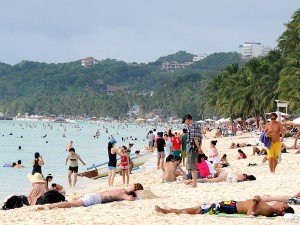 MANILA, Philippines—The Philippines will have a tough time getting 10 million tourists each year by 2016 amid bad roads and unexpected setbacks, industry officials said Tuesday. To reach the ambitious target, double the five million visitors expected this year, arrivals would have to grow by 26 percent per year from 2014, former tourism secretary Narzalina Lim said at an annual Philippine business conference.
The country only managed a growth in arrivals of about 11 percent yearly since 2010, and is now about 16 percent behind its full-year 2013 target, said Lim. Domingo Enerio, chief executive of the government's Tourism Promotions Board, agreed his task was a tough one, but added: "We still sincerely believe that we can do it." The government hopes tourism will create seven million jobs and contribute 12 percent of economic output. The industry now accounts for three million workers and seven percent of economic output, Lim said, citing government data. Cesar Cruz, president of the Philippine Tour Operators Association, outlined the challenges. "We still have to address the road congestion, or the lack of reliable transportation… in most out-of-town destinations," he told the forum. "Security and safety need to be improved… There are so many things that need to be done," he said.