New Immigration Commissioner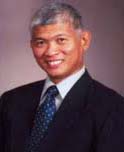 MANILA, Philippines - President Aquino has appointed Bureau of Immigration (BI) officer-in-charge (OIC) Siegfred Mison as the Bureau's new Commissioner. Malacañang said yesterday the President signed Mison's appointment on Dec. 18. It also announced the appointment of resigned National Bureau of Investigation chief Nonnatus Cesar Rojas as regional prosecutor in the Ilocos Region.
Mison said he considers his appointment as an early Christmas gift from the President. "I am happy because (my appointment) shows that he trusts me," he said. He assured the President he would continue to work "from the heart" and show the same level of dedication to his work when he was still an OIC. Headlines ( Article MRec ), pagematch: 1, sectionmatch: 1 He said he would consult his immediate superior, Justice Secretary Leila de Lima, before making any major decision. "I would always defer to her wisdom when it comes to policy decisions," he said. As OIC, Mison could not act on matters involving policy determination, approval of long-term contracts and transactions and appointment and firing of personnel. A son of the former Customs commissioner Salvador Mison, the new BI chief has been a professor of law at the Ateneo de Manila University since 2000 and used to be a private practitioner, specializing in corporate and investment law, both here and in the US. According to the website of Malcolm Law Office, of which Mison is listed as a partner, he finished B.S. Management from the US Military Academy at West Point in New York in 1987. As partner at the law office from 1999 to 2005, Mison rendered various corporate retainer services such as compliance to corporate, tax and immigration laws, maintenance of corporate documents and records and preparation of employment and service contracts, among others. He finished law at the Ateneo in 1996 and has a Masters of Law degree from the University of Southern California (2006). He was the chief legal counsel of the University of the East-Manila. A former member of the Philippine Army, he was involved in counter-insurgency operations in Samar and Bataan and has substantial exposure in the field of security and intelligence. He was also detailed with the Armed Forces of the Philippines-Retirement and Separation Benefits System, the military pension fund. He was appointed BI associate commissioner in 2011. Meanwhile, the BI donated the P200,000-savings from their Christmas party to the survivors of Typhoon Yolanda. Mison said they had an "austere and modest" celebration, but dressed up their rooms for the Best Christmas Decoration Contest to show that the Christmas spirit is alive. "This is the first time that the Bureau of Immigration looked like a Pahiyas in Quezon," he said.