Phone lines and taglines: PLDT celebrates 85 years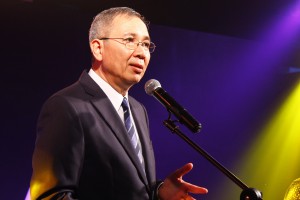 In the Philippines, families have gone from the rotary phone to the touch pad in the last 85 years of Philippine Long Distance Telephone Co. (PLDT) service. The simple rotary telephone is symbolic of connections, and this, perhaps, is the one picture that tells the story that is PLDT. To commemorate the telephone and its significance to the Filipino family,
some units of this gadget were auctioned off at the company celebration of its 85th anniversary, where nine of its most loyal subscribers were also recognized in a simple program. Chosen from PLDT HOME's Most Loyal Connections Contest conducted previously this year, the nine awardees have been PLDT subscribers since the 1960s, '70s, and '80s up to the present. They came from all over the country, with two from Metro Manila, another two from North Luzon, and one each from Cebu, Bacolod, Iloilo, Davao and Zamboanga. The most loyal subscribers received their trophies and gift certificates from PLDT officials led by president and CEO Napoleon Nazareno with EVP and head of Home Business Ariel Fermin. Also present were SVP and HR Group head Butch Jimenez and FVP and Comptroller Chaye Cabal-Revilla. "This is our simple way of giving thanks to our subscribers who have been with us through the years. We are truly grateful that they allowed PLDT to become a part of their lives," Nazareno said. One of the honorees with the oldest connected line was Daria Gonzaga of Sta. Mesa, Manila, whose telephone was installed in 1961. She related that back in the 1950s, when she was still a student, her family didn't have a telephone at home. "I used to call one of our neighbors who had a telephone. It was very inconvenient so I asked my Mama and told her, I think it's better if we have our own line." When she got married, Gonzaga inherited the landline. "Since I am always at home, being a full housewife, the telephone is my bridge in communicating with my children every now and then." Another loyal subscriber, Laura Domingo, said: "Our original telephone line was owned by my grandmother, who had it installed in the '60s, so our landline must be about 50 years old by now." When the Internet emerged, this Pasay City resident subscribed to PLDT myDSL, the high-speed Internet cable connection that runs on PLDT's extensive phone network. "I had myDSL installed in our reliable PLDT landline and my children are all benefiting from it. Kasi 'yun ang ginagamit nila sa pag-aaral. Nung nag-college ang mga anak ko, 'dun nagre-research sa myDSL. I also have an extension of that in my office." Also awarded were Lito Salvador from Tarlac City; Zenaida Jamilla, Boac Marinduque; and Lilia Cutang, Mandaue City, Cebu. Completing the Most Loyal Subscribers list were Lourdes Javelosa, Bacolod City, Negros Occidental; Erlinda Guyo, Davao City; Irene Patajo, Zamboanga del Sur; and Henry Chusuey, Molo, Iloilo. Iconic Years Video tilt winners PLDT also awarded the winners of the 85 Iconic Years Video Competition during the anniversary celebration in Makati. Open to all subscribers, the competition required participants to record an original video of alternate endings or remake of PLDT's classic and well-loved TV commercials using current technologies or PLDT products and services. Leading the winners was a beautiful remake of the PLDT Landline Plus ad, entitled "Ulit-ulitin," featuring the very young Marian Rivera. Submitted by Janine Guzman and her Superbida group from Magalang, Pampanga, the ad featured a young woman telling her grandma over the telephone that she has met this wonderful man whom she plans to marry and introduces him to her, also over the phone. Placing second was an imaginative version of the PLDT Telerewards "Scream" commercial, created by three college students, led by Luigi Rosario, from the Mapua Institute of Technology. A PLDT Budget Card ad remake, presented by Salome Pascual of Malabon City, completed the three frontrunners. Among the prizes were a PLDT HOME showcase, up to P40,000 worth of gift certificates, an iPad Mini, commemorative Rudy Project watches and other gadgets. "The 85 Iconic Years Competition illustrates the transformation of PLDT from being a provider of landline services as shown in its classic TV ads to becoming a multi-media company, offering the latest innovations to its customers," said PLDT HOME Customer Care and Retention Management head Paolo Lopez. The anniversary lunch was highlighted by a skit entitled "Hello," participated in by theater actors Leo Martinez, Pinky Marquez and Tonipet Gaba.