PAL lands in London after 15 years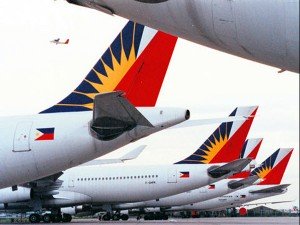 LONDON—Flag carrier Philippine Airlines (PAL) resumed commercial flights to Europe for the first time in 15 years via Heathrow airport in London, the first of a small group of European cities that the airline plans to fly to by next year. In 2014, PAL intends to acquire a new gateway via Frankfurt in Germany, and also fly to Amsterdam, Paris and Rome. The maiden flight to London (PR 720) arrived at a little past 1500 GMT on Monday (11 p.m. Monday in Manila) and was welcomed by a traditional British water gun salute followed by a brief welcome ceremony at the Royal Suite, the salon at Heathrow airport that is used by British royalty, diplomats, politicians and VIP guests.
Ramon S. Ang, president of PAL and of San Miguel Corp., was among those on the inaugural flight, while joining the VIP guests was British Ambassador to the Philippines Asif Ahmad. Upon arrival at Heathrow, Philippine Ambassador to the Court of St. James's Enrique Manalo and Ahmad welcomed the entourage. Ang said this was the "first of many" nonstop flights to Europe that PAL would be flying using new Boeing 777-300ER aircraft.
PAL now flies five times a week from Manila to London—on Monday, Wednesday, Thursday, Saturday and Sunday—leaving Manila in the morning and arriving at Terminal 4 of Heathrow, the world's busiest international airport, approximately 13 hours later. Shortly before leaving Manila on Monday (Manila time), Ang told reporters that Frankfurt, the German city that is a major railway hub, would be next on PAL's European destination list. He said PAL was working on getting an overflight permit from Russia. By using Russian airspace, PAL could shorten the flying time to Frankfurt and depart Manila at 9 a.m. instead of two hours earlier, he said. The earlier a flight is, the fewer connecting passengers there will be, he explained. The overflight permit needs to be conducted through bilateral negotiations but Ang said he hoped this could be granted with the endorsement of the Russian Embassy in Manila. "We're also studying to go to Moscow. There's a big market there," he said. At present, PAL only offers chartered flights to the Russian city. Ahmad said there were 250,000 Filipinos based in the UK which would now have more flying options to Manila with the opening of the direct flights via PAL. "The real dividend of this in my opinion is not just opening up the UK to the Philippines, it's the gateway to Europe," he said. Manalo said the opening of PAL commercial flights from Manila to London was timely given the increasing interest among British investors in the newly investment-grade Philippines.