Pinoy workers 'abused' in Saudi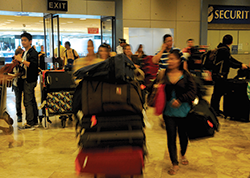 Thirty Filipino workers expelled from Saudi Arabia returned home yesterday and alleged they were abused amid a crackdown on illegal migrants in the oil-rich Middle Eastern kingdom. They were among an estimated 6,700 Filipino workers stranded in parts of Saudi Arabia where an amnesty for undocumented foreigners ended Nov. 3. "They treated us like animals," said domestic helper Amor Roxas, 46, who burst in tears while narrating her ordeal.
She claimed Saudi police rounded them up and placed them in a crowded cell for four days before they were paraded from the immigration center to the airport. "Our feet were chained," added Yvonne Montefeo, 32, in between sobs. Saudi Arabian embassy officials in Manila did not want to comment on the allegation of abuse. Migrante International, a support group for overseas Filipino workers (OFWs), said 1,700 other workers remained stranded in Jeddah waiting for their documents to be processed so they can return home while about 5,000 more were scattered in Riyadh, Al Khobar and Dammam and are also needing consular assistance. It warned that the Filipinos "are in danger of being violently dispersed, arrested and detained by Saudi authorities" as the kingdom implements its crackdown. Migrante chairman Gerry Martinez said even the supposed P2-billion reintegration fund recently allotted by the Aquino government for returning OFWs comes too late in the game. A partlylist lawmaker, for his part, urged the Aquino administration to do whatever it takes to assist the OFWs in Saudi who are at risk of detention and deportation. "We expect raids and checkpoints across Saudi to find and detain workers without required documentation or those without legal status. If a miracle is what is needed then the Aquino government must move heaven and earth to repatriate thousands of stranded OFWs in Saudi," Anakpawis Rep. Fernando Hicap said. "Despite the unending stories of multiple abuses and labor exploitation, Filipino workers are lured to work in Saudi Arabia and the Middle East because of lack of employment opportunities here in the Philippines. As undocumented workers, they become more vulnerable to abuses." he noted. "An emergency situation requires urgent and emergency response. Writing and pleading to the Saudi government will do very little to save undocumented OFWs...
An emergency repatriation program is necessary," Hicap said. According to the lawmaker, despite the huge pork funds available, the Aquino government only allocated P50 million for repatriation fund and P2 billion for the re-integration fund on the 2014 budget. "The government continues to regard OFWs as the lifesaver of the Philippine economy but it does very little or makes no effort at all to protect and safeguard the rights of OFWs in Saudi," Hicap said. Vice President and Presidential Adviser on OFW Concerns Jejomar Binay, however, said staff from the Philippine Overseas Labor Office (POLO) in Saudi Arabia will be deployed kingdom-wide to check jails, police stations and detention centers to assist Filipinos who may have been detained after the expiration of the deadline. "I was informed by Ambassador Ezzedin Tago that they have coordinated with POLO Riyadh and POLO Eastern and formed teams that will inspect jails, police stations and deportation centers starting tomorrow (Nov. 5) to check if there are any Filipinos affected by the inspection campaign after the lapse of the extension, and to provide them travel documents if necessary," Binay, in a statement, stressed. The Vice President also revealed foreign workers in Saudi Arabia who have started correcting their residency or work status in the kingdom before the lapse of the deadline will be allowed to finish the process.
"Ambassador Tago said the Saudi government, through Ministry of Interior Spokesman General Mansour Al-Turki, has announced that those who have started to correct their status and are still trying to finish the completion of their papers will be allowed to do so in the next few days," he said. "We are grateful to the Saudi government for allowing this despite the lapse of the four-month extension they have generously given before," the Vice President added. Binay urged all OFWs in the kingdom to finish processing their travel or work documents at the soonest possible time. Binay, also the presidential adviser on OFW concerns, last week appealed to the Saudi government to extend its deadline, noting that "thousands are still hoping to correct their employment status." "Due to the large number of Filipino workers seeking correction of their employment status, many of them may not be able to meet the Nov. 3 deadline," he said in a letter to King Abdullah bin Abdulaziz Al Saud last week. The crackdown started early this year, but the Saudi government offered an amnesty to allow the workers to legalize their stay.