FAC Update March / April 2020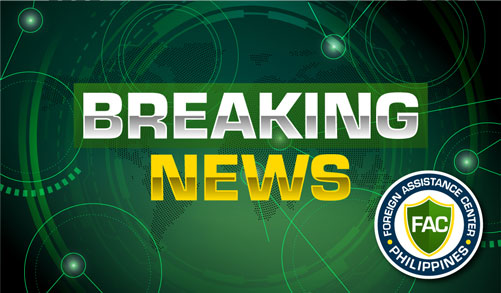 Bureau of Immigration:
In March 2020 BI intercepts 242 Foreign illegal workers at NAIA

BI arrested 30 undocumented Indian Citizen in Quezon City

Application perioded for the 2020 – 2021 Accredition is hereby set from 01. APR 2020 to 01. MAY 2020

BI arrest Myanmar Citizen for Overstaying and one Iranian for undesirability Caces
Department of Labor and Employment:
Start 16. MAR 2020 NEW business hours Monday – Thursday 07:00 AM – 07:00 PM only

Companies or Clients needed AEP – please send your Request to

Diese E-Mail-Adresse ist vor Spambots geschützt! Zur Anzeige muss JavaScript eingeschaltet sein!

The Alien Employment Permit (AEP) is a permit issued to a nonresident alien or foreign national seeking admission to the Philippines for employment purposes
CITY HALL Quezon City:
New Application and Requirements for "Mayor Business Permit" 2020

Now called "Permit to Operate" and additionally required "ENVIRONMENTAL Inspection Certificate
Corona Virus:
Travel from and To Manila suspended from MAR 15 as Code Red Sublevel 2 raised over COVID 19

Public

Buildings

unpopulated

All scholl's for one month suspended

The Community Quarantine, which would take place from March 15 to April 14, would be implemented to prevent the spread of the novel Coronavirus disease or COVID-19 The Metro Manila Council on 14 MAR 2020 announced that the 17 mayors unanimously agreed to a resolution to pass ordinances that will eventually set an 8 p.m. to 5 a.m.

Curfew. public transport including the Light Rail Transit, Metro Rail Transit and Philippine National Railways would continue, This would cover temporary travel restrictions in the Metro Manila
Business update:
The actual February 2020 inflation is within the Bangko Sentral ng Pilipinas' forecast of 2.4 percent to 3.2 percent

Review Philippine Business

Barometer Stocks

FEB 2020 from Philippine Statistics Authority.
.