Excellent value for money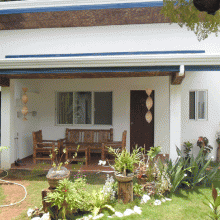 We receive many Inquiries regarding Insider Tips for vacation spots. Today we want to introduce you to a small Family Resort on the Island Group of Bohol / Panglao. The dream of Paradise must not always be expensive. Our Tip: "Small travel budget but great vacation in the tropics." If you book your Flight early, you might be able to purchase a Return Ticket Berlin-Manila-Berlin for as less as 800 EURO.
The Owner is no longer living ! Rest in peace
.
The Resort is as good as new and offers German standard, that is, rooms with shower (hot), TV, Air-Conditioning and Balcony. Breakfast can be arranged individually. Room Fees are 1.000 Pesos (ca. 18 EURO) per Night. While the Resort is not located directly at the beach of Panglao, it scores in the area of value for money and, what is particularly noteworthy for Families with Children, it is absolutely quiet. The Beach can be reached by foot in l5 minutes, passing many Restaurants and Resorts. For a small Rental Fee Motor Scooters are available to explore the Islands. Our Evaluation: Ideal for young couples with a tight budget who seek much fun.

For more detailed information, please contact Ms. Josephine Lidres - Cell: + 63 949 3033032
Or visit direct the Homepage of "Acaciasunset" here. First Impressions us you can see on the right-hand side.